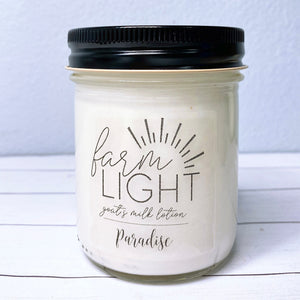 Paradise Goat's Milk Lotion 8 oz
This lotion is a little scent of paradise with hints of bananas with tangy pineapple, juicy peaches and sweet coconut milk infused with vanilla. Our lotion is light and absorbs wonderfully into the skin leaving skin soft and moisturized but not greasy.  
Ingredients: Goat's Milk, Sweet Almond Oil, Shea Butter, Distilled Water, Fragrance, Stearic Acid, Preservative, Emulsifying Wax
*Lotion is milk based. Best if used with in 4 months of purchase.  Keep out of direct sunlight or extreme heat.