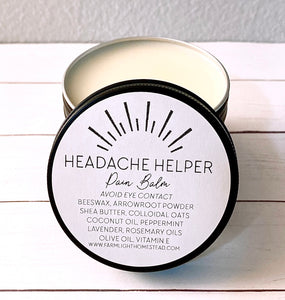 Headache Helper - Pain Balm 4oz
As someone who has dealt with migraines for years, Headache Helper is made with headache pain in mind. It's designed to help reduce the intensity of your headache, as well as other aches and pains. Place around the temples of your head (AVOID EYE CONTACT), across forehead, and around your ears. 
Headache Helper can also be applied to other areas of the body. Avoid sensitive areas. 
Ingredients: Peppermint, Rosemary, and Lavender essential oils, beeswax, arrowroot powder, shea butter, colloidal oats, coconut oil, olive oil, vitamin E
Size: 4oz
*This is not to be taken as medical advice. These combinations of oils have helped me in my journey so I wanted to pass them along.*