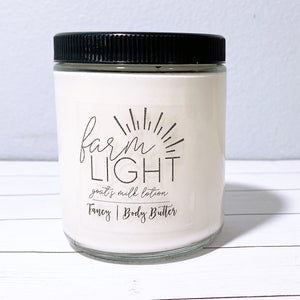 Fancy Goat's Milk Body Butter - 4oz
This lotion contains extra shea butter for a thicker feel. But instead of going on greasy, you'll still find that your skin feels silky smooth and NOT greasy because of an amazing ingredient called arrowroot! This product is great for extra moisture when you need it most!
 Ingredients: Goat's Milk, Sweet Almond Oil, Shea Butter, Arrowroot Powder, Distilled Water, Fragrance, Stearic Acid, Preservative, Emulsifying Wax
*Lotion is milk based. Best if used with in 4 months of purchase.  Keep out of direct sunlight or extreme heat.