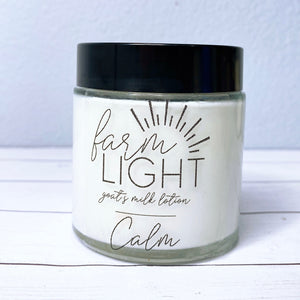 CALM | Extra Strength Goat's Milk Lotion 4 oz
Scented with Lavender and Cedarwood Essential Oils, this lotion has a sweet and woodsy smell that is great for when you're ready to rest or relax.  I prefer to use it at night and put it on the soles of my feet. Your feet have the largest pores on your body, so it absorbs there the best! This lotion also has the extra benefit of 25% more goat's milk and vitamin E. 

Ingredients: Goat's Milk, Sweet Almond Oil, Shea Butter, Distilled Water, Essential Oils, Stearic Acid, Preservative, Emulsifying Wax, Vitamin E

*Lotion is milk based. Best if used with in 4 months of purchase.  Keep out of direct sunlight or extreme heat.